Our Leadership Team
All over the world, workers of The Lutheran Church - Missouri Synod bring the gospel to a world sorely in need. And for fifty years, the Concordia Plans have provided benefits to protect those workers, leveraging our collective numbers to bring quality benefits to all.
Kevin Herweck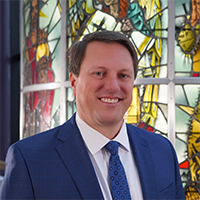 Kevin Herweck serves as Vice President and Chief Product Officer for Concordia Plans. In this role, he is responsible for defining vision and driving execution for health, life, disability, and retirement products as well as risk management services.
Kevin brings more than 25 years of experience in strategic leadership and organizational effectiveness in various industries. He most recently served in the property and casualty insurance industry. He has had roles that include oversight of project management, process improvement, strategic alignment and execution, and organizational change management. He graduated with a degree in Psychology with an emphasis in Business from Saint Louis University.
Growing up attending an LCMS congregation and Lutheran schools, many ministers, Directors of Christian Education, and teachers greatly influenced Kevin. He and his wife, Kameron, have four wonderful children and are active members in their Lutheran congregation, where Kevin has served in many capacities.