SERVE Ministry and Stewardship Reports
Continuing to build on a solid foundation
Nearly 60 years ago, Concordia Plans laid a foundation to support LCMS ministries and care for workers. We are blessed to provide benefits today, while helping workers prepare for their future.
We're pleased to share two reports about how we serve ministries and workers of the LCMS – the 2022 Ministry Report and the 2023 Stewardship Report.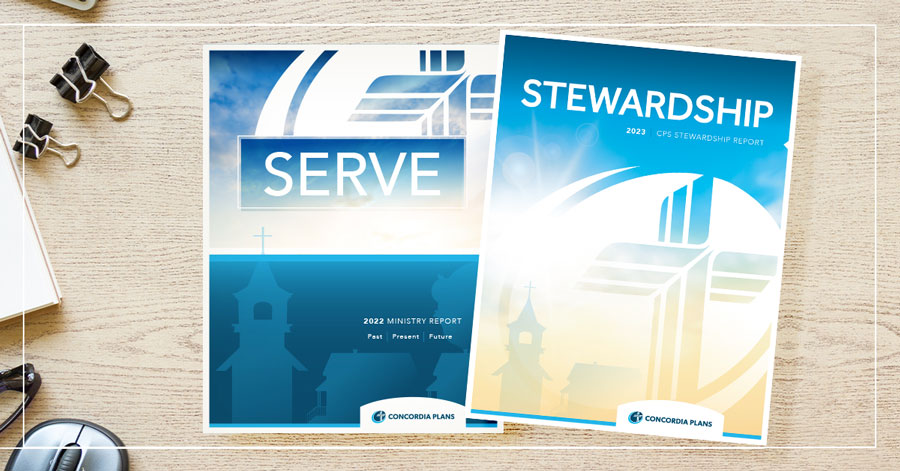 Concordia Plans 2022 Ministry Report
The Ministry Report shows how CPS is focused on partnering with LCMS ministries to answer their need for comprehensive financial and health insurance solutions, all while caring and solving for what ministry workers need, too. It also will introduce you to CPS staff, leadership and board members whose expertise and compassion help drive the organization to live its mission of serving ministries and caring for workers so that the Word of God spreads.
Take a closer look at all the great things that happened in 2022 by downloading "Serve," the 2022 Ministry Report.
Concordia Plans 2023 Stewardship Report
We wanted to share how we manage the contributions entrusted to us that provide benefits through the Concordia Retirement Plan pension, Concordia Disability and Survivor Plan, Concordia Retirement Savings Plan 403(b), and Concordia Health Plan. The Stewardship Report shows how we're diligently working to manage the investments and assets of the Plans, carefully monitoring healthcare costs, and thinking one step ahead to serve workers now and into their retirement.
We invite you to take a closer look at how we're serving the ministries and workers of the LCMS.