The Digital Daze - and How to Start Disconnecting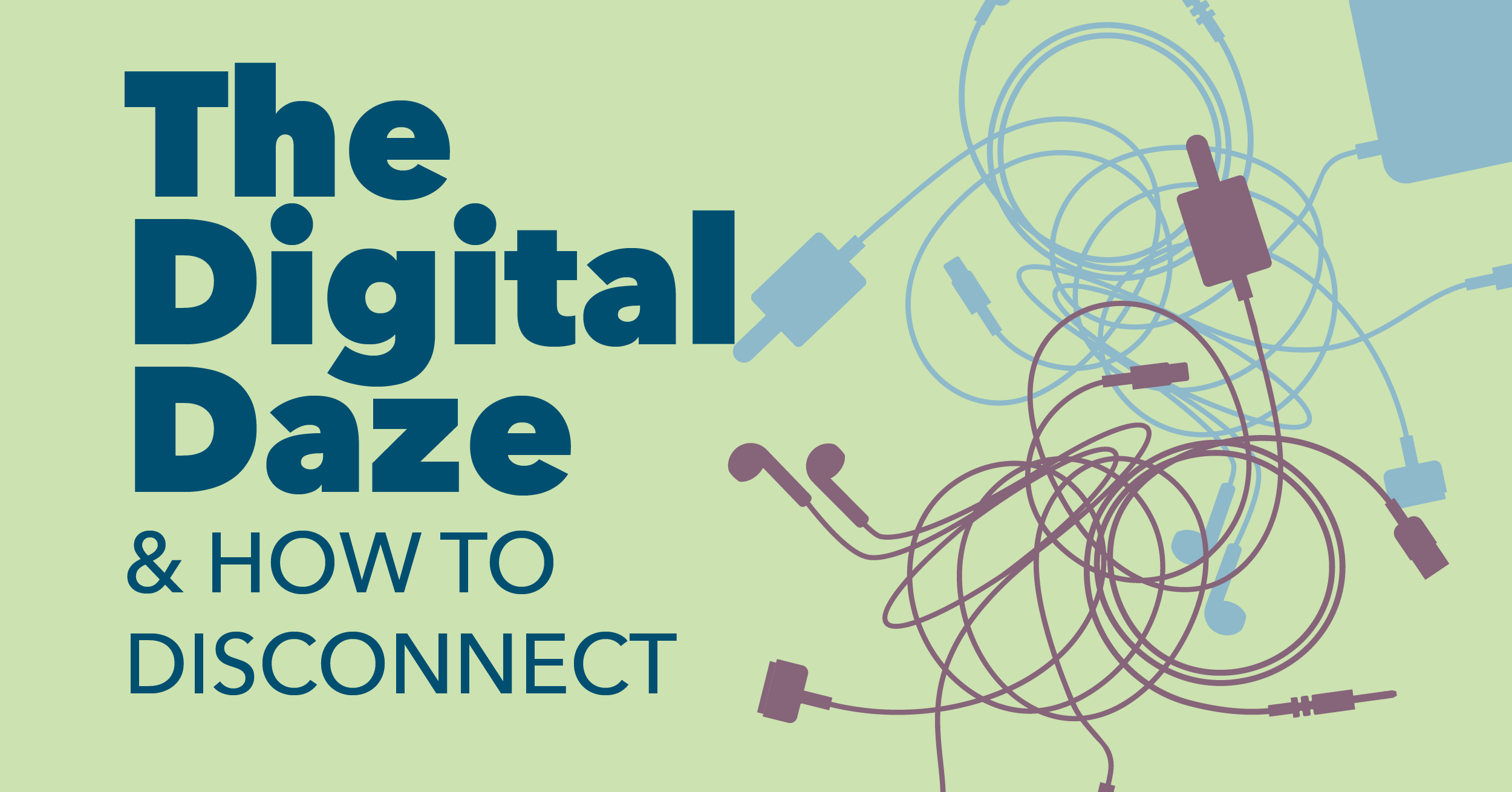 How many times have you pulled out your phone to check the weather but later found yourself looking at social media or watching videos of dogs wearing boots. What's worse, when you finally snap out of the digital daze, you still don't know what the forecast is.
Our intellectual well-being requires us to continually stretch our minds, remain curious and answer-seeking but also take time to rest our minds each day. These digital devices that are meant to connect us to information and to each other flood our brains with content each time we interact with them, preventing any sort of rest. What's worse, these device are doing more to put other areas, like physical and mental well-being, at risk:
Productivity Stealer – The average worker spends 56 to 70 minutes per day on a mobile device, which adds up to 4.5 to 9 hours of work missed per week!
Knowing without Going – From videos, social media, emails and more, there is never a shortage of something on our devices to keep us glued to them and to our chairs. Sedentary lifestyles are linked to heart disease, diabetes, anxiety, depression and certain cancers.
Distracted and Driving – more than nine people are killed and 1,000 injured every day due to a distracted driver. It's no wonder that 15 states currently prohibit handheld cell phone use while driving regardless of driver age because of emerging crash data.
Disconnected – It's a habit that many of us have come to do without any awareness – playing on our devices to fill time while in line for coffee, in the carpool lane, in the waiting room, in the checkout line … anywhere and everywhere. God calls us to be in relationships with Him and others. And we might believe that's what we're doing by staying attached to our phones because it links us to texts, calls, emails, social media and more. But are they really encouraging meaningful relationships – or are they distracting us from them?
So, what is the solution? First, we need to have awareness of our habits. Then, we need a plan (maybe coupled with some accountability) to start changing our interactions with our devices. Here are a few apps designed to help you become aware of your connection to your device and then to start disconnecting from it:
Flipd (Android only) – An incentive-based app that rewards you for disconnecting. You select a period of time you want your phone disabled, and it will lock it for you. Any messages you receive during your locked time can have automatic responses sent.
Off Time – This app blocks notifications from calls, emails, text messages and other apps for a set period of time. When you return, it will give you a summary of which apps take most of your time and who you communicate with the most, while challenging you to remain off the digital grid a little longer each day.
RealizD – A screen-time tracker, this app can tell you how often you pick up your phone, how long you use it when you do and how you are comparing to other members of your family. It also allows you to set a phone usage limit with the option to block incoming notifications.
UnGlue – A great app for a family with kids. This app allows you to limit time on distracting apps. Each day you get a family report showing the number of minutes spent on each app.
Freedom – Allows you to block certain apps at certain times of the day to increase your attention and productivity (a free app, though the advanced features come at a price).
Whether you use a blocker app, good old self-discipline or resort to burying your device in the backyard just to get a break from it, try to make time to disconnect daily so you can reconnect with the people and situations around you – and to give your mind a break. Who knows how much you're missing when you're looking down? (But when you fit a little screen time into your day, do check out dogs in boots videos. guarantee they'll make you smile!)
Sources: