K-9 Comfort Dog Ministry Makes a House Call to Concordia Plans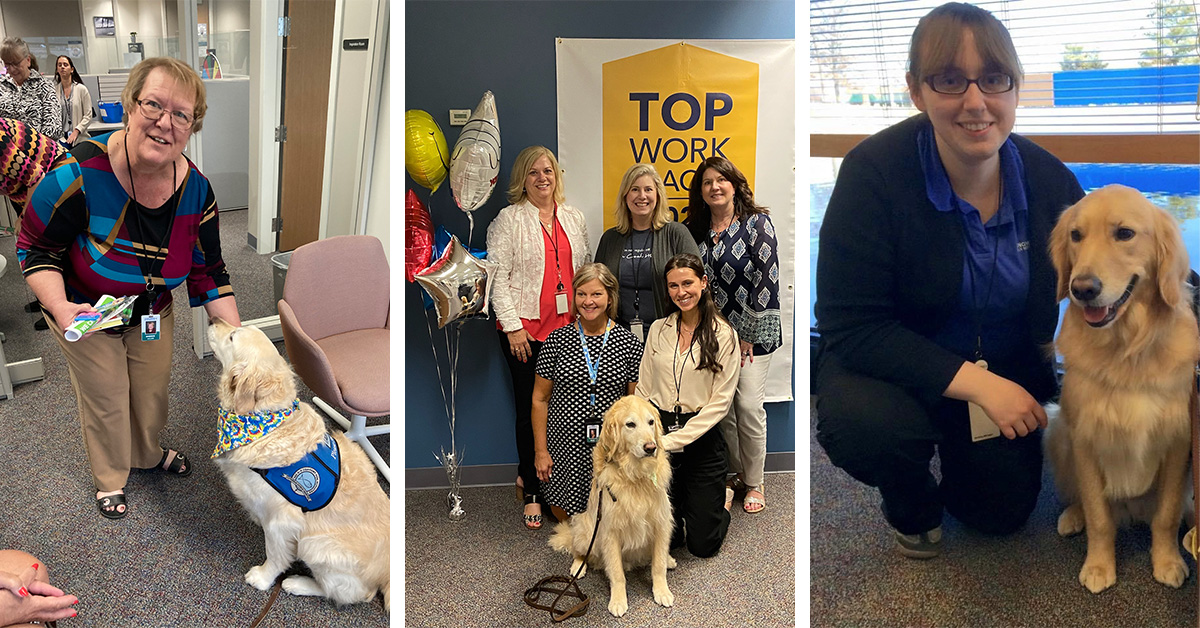 At Concordia Plans caring for LCMS workers is a huge part of our ministry and we love being able to share about other caring ministries supported by our Church. In honor of National Dog Day, we bring you Noah – a member of the Lutheran Church Charities' K-9 Comfort Dog Ministry®!
Lutheran comfort dogs, you ask? Absolutely! Lutheran Church Charities K-9 Comfort Dog Ministry is a national human-care ministry dating back to 2008. Through their visits, these dogs offer a compassionate connection for conversation about faith and create opportunities to share the mercy, compassion, and presence of our Lord and Savior Jesus Christ.
Noah is a nine-year-old Golden Retriever—the only breed chosen for Comfort Dog service because of their calming nature and trainability. Comfort Dogs typically receive 18-24 months of training and when ready, are placed specifically with Christian churches and schools to serve as an extension of ministry outreach within their communities. The dogs live and travel with a team of designated handlers. Noah's home church is Timothy Lutheran Church in south St. Louis, MO, where he is celebrating his eighth service anniversary this month. He visits with organizations across the Midwest region, primarily serving in Missouri and Illinois. He also serves on special deployments, such as visiting Texas in 2017 to bring comfort to those coping with the aftermath of Hurricane Harvey.
Noah is a frequent visitor to Concordia Plans, thanks in part to one of his handlers, Amanda Bello, who is also a member of our staff.
"I've been a trained handler for Noah since 2017. Before becoming a handler, I served as a team ministry helper," said Amanda. "It's a wonderful ministry. We bring calm and comfort to those who are hurting. We can uplift and brighten someone's day—and we get to use Golden Retrievers to do it." Well said, Amanda. What a blessing!
Though providing comfort to those who are sad or grieving due to an event, tragedy or unexpected loss is a key component of the service the Comfort Dogs provide, they also provide uplifting social calls, always ready to spread love and joy through their tail wags and docile demeanors. And honestly, how can anyone resist petting them, scrunching their soft fur, or giving a good scratch behind their ears?
One such visit occurred recently at Concordia Plans when our Human Resources team held an open house for staff. Noah and his fellow Comfort Dog Tabby joined the HR team to greet the staff and share their unique brand of happiness. "We loved having Noah and Tabby as a part of our HR open house," said Cheryl Johnson, CPS director of HR organizational & talent strategy. "Who doesn't love the ability to spend a few calming minutes with God's furry creatures? These animals are so sweet and comforting, and it's amazing the affect they have on the community they serve."
There are now more than 130 of these special dogs serving in at least 26 states. Maybe there's a Comfort Dog in your community that you could follow on Facebook or request a visit. To see all the Comfort Dogs, link to their Facebook pages and learn more about this special ministry, visit the LCC K-9 Comfort Dog Ministry® website. Follow Noah on Facebook here.