5 Ways to Strengthen Your Social Connections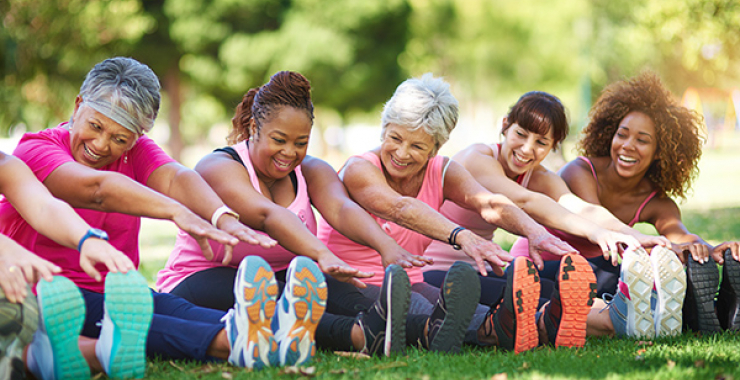 Getting older has its perks (hello, travel and leisure time), but it can also bring some trials.
Leaving a career, moving out of a home, or losing a spouse or friend can take a major toll on our well-being. Many older adults end up living alone again for the first time since their 20s—or maybe ever.
Lacking social connections can have a major impact on your health—comparable to smoking 15 cigarettes per day, according to Brigham Young University research. It's also been linked to increased risk of heart disease, depression, Alzheimer's disease, and even early death.
What does this mean for you? Loneliness and social isolation shouldn't be taken lightly. The good news is just as you can take steps to improve your fitness, there are actions you can take to build social connections. Try these strategies.
Strategy #1: Show People You Care
Small everyday actions, like asking the cashier at the grocery store how their day is going, makes people feel appreciated and awakens you to other people's involvement in the world.
If you're able, Nowinski suggests checking out local volunteer opportunities. Visiting with homebound folks, for example, helps them and you, he says. Plus, research shows that volunteering is linked to improvements in mental and physical health in older adults, and a decrease in feelings of loneliness.
Strategy #2: Become a Student Again
Look into adult education programs in your area, Nowinski suggests. Community centers, libraries, and local colleges often offer courses from painting to computer skills that will help you expand your mind—and meet new friends.
If you're lucky enough to have a museum or historical society in your area, inquire about talks and other special events.
Strategy #3: Find a Fitness Family
Exercises classes for older adults, like SilverSneakers classes, are a great way to connect with like-minded people while getting some exercise. In fact, 60 percent of members say they've made new and valuable friendships since joining SilverSneakers. And 88 percent say it has improved their quality of life.
For many people, it's helped them cope with grief and health problems. "This place is filled with kindness, smiles, and caring elderly ladies who like, like me, go for therapeutic reasons, but who have also formed a family here," says SilverSneakers member Rosa Juarez. "Some of us have lost loved ones but have also found new friends to love."
Strategy #4: Embrace Online Communities (in Moderation)
Thanks to the internet, it's easier than ever to virtually connect with family and old friends—and even make new ones. You can send emails, share photos, and chat with people all around the country, including fellow SilverSneakers fans.
There are also websites, like stitch.net or meetup.com, where you can find local events with people who are also interested in crafts, film, outdoor adventures, or other activities.
However, social media can be a "mixed bag," Nowinski says. If you're just sitting on the computer at home, it's not the same as interacting with other people in real life, he explains. "I'm not saying you shouldn't use social media, but just don't rely on it."
Try to balance your digital communication with a face-to-face interaction at least once or twice per week. Closeness of relationships is more important for health and well-being than the number of friends you have.
And if you need a break from social media—it's making you feel more lonely than connected, for example—sign off for the day.
Strategy #5: Take Advantage of Available Resources
Think about what's keeping you from connecting with others. Once you have an idea of your biggest barriers, search for resources that can help you with a solution. Here are just a few examples.
Dealing with an injury or illness? Getting proper care can help you recover faster or manage your symptoms. Whether you need physical therapy after surgery, cardiac rehab after a heart attack, or nutrition counseling for diabetes, check with your health plan or medicare.gov for coverage.
Struggling with caregiving? Taking care of yourself will ultimately put you in a better position to care for your loved one. Make a tough job easier with these smart tips every caregiver should know.
Can't drive anymore? Look for transportation options, such as car, taxi, or rideshare services. Your community may also have special transportation programs or discounts. Check with your local area agency on aging for help.
Feeling sadder than usual? Tell your primary care doctor, who may be able to connect you with the support you need.
Check Your SilverSneakers Eligibility Instantly
SilverSneakers members can go to thousands of gyms and fitness locations across the nation, plus take exercise classes designed for seniors and led by supportive instructors. If you have a Medicare Plan, it may include SilverSneakers—at no additional cost. Check your eligibility instantly here.
Already a member? Get your SilverSneakers member ID and exclusive fitness content by logging in to or creating your online account here.
Reprinted with permission from SilverSneakers.com/blog