Two ways to support your co-workers' emotional and physical health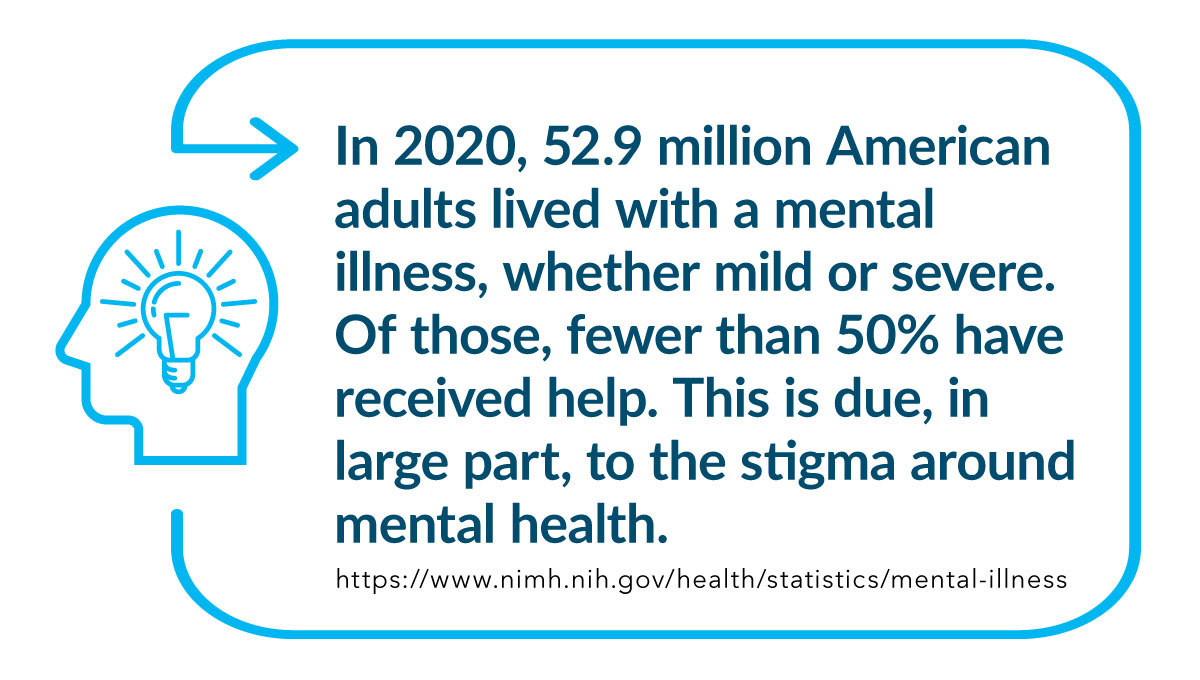 (https://www.nimh.nih.gov/health/statistics/mental-illness)
With this statistic in mind, consider doing these two things to inspire your co-workers to seek good emotional and physical health.
#1: Break down the mental health stigma is to break the silence. Allowing space, time and conversation about feelings, validating them and holding our brothers and sisters in love begins to break the isolating landscape of mental health.
Any moment carved out for mental health, whether big or small, can have a positive impact on breaking the stigma. Some ideas for you and your ministry to start small include:
Encourage your co-workers to complete a mental health check-up.

For Concordia Health Plan members, this can be done with Vitality's Mental Health Review.
For non-CHP members, go to Mental Health America's website for quick assessment on depression, anxiety, postpartum or youth mental health.

Support your co-workers' stressors. Whether it's finding childcare, preparing wills or dealing with grief, show support for your workers by reminding them Cigna EAP can help.
Stay up to date. Our Mental Health Toolkit landing page is built with you caring for your co-workers in mind.
#2: Make plans for your ministry to participate in health screenings and "Family Health & Fitness Day" June 12. Maybe your co-workers have been focusing on their ministry more than their minds and bodies. Help them take some steps in their health in June with any of the following:
Onsite health screenings (CHP members only)

You can't go anywhere without knowing first where you are, so support your co-workers on their health journeys by helping them get their health care bearings through health screenings. You can either send them out to local sources (health departments, physicians, etc.) or bring the screenings to them at your ministry!

Onsite biometric screenings are available at no cost to your ministry. These screenings assess risks related to weight, blood pressure, blood sugar and cholesterol. Plus, these award 1000's of points for Vitality participants!

Contact Cristel ([email protected]) to schedule a screening event at your ministry! Note: Screening events require a minimum of 30 health plan participants. If your ministry doesn't meet this threshold, consider pairing up with nearby LCMS ministries or create a plan to allow workers work time to complete these screenings to demonstrate how much you support and value their overall wellness.

Family Health & Fitness Day (Sunday, June 12)
The environment around your co-workers can encourage or discourage them in their care of self, which then impacts their service to others. This June, consider a fitness-focused event that includes all of those surrounding those serving on God's missions … co-workers, congregation members, community members, etc. Think about how you can build a supportive environment for fitness for your co-workers.
Some fun fitness ideas include:
Fun Walk/Run. Choose a location or distance to walk as a group. Consider praying over the abilities of our bodies and the stewardship God calls us to have in caring for them before you set out on your fitness event. Want to take it up a notch? Consider it being a longer-term event than just one day.
Plan a distance.

"Walk to the Moon." Get your co-workers, maybe even your congregation, walking together. Can your whole group walk to the moon (239,000 miles) by the end of the summer?
Or maybe challenge each co-worker to walk to Wittenberg, Germany before Reformation Day? (4,665 miles from St. Louis)

Fitness Olympics/Field Day. A great option for inclement weather and great for all ages.
Station
Activity
1

Penguin Relay (teams of 4)

Have two buckets, one empty and the other filled with ping pong balls, golf balls or any other item.
Each team needs a basketball, playground ball or balloon.
Have team line up behind the empty bucket. The first team member to go will place the ball between their knees and walk to the bucket of items, grab one and walk it back and place in the empty bucket. Then, pass the ball to the next team member.
Have the team continue this until time is called (1 minute, 2 minutes, or however long you decide).
The team with the most items in their bucket wins.

2

Don't Drop (teams of 4)

Give each team a volleyball, playground ball or balloon.
Have them volley as a team of 4 until they touch the ball 15 times. There can not be any double touches (a new person much touch the ball every time).
The first to volley 15 times, wins!

3

3-legged race (teams of 4)

Each pair should have 1 band.
One person should have it on their left leg and the other person should have it on their right leg.
Set up a line or chair at opposite end of starting line.
The first pair should walk to the line or chair and walk back and tag the next pair.
The second pair should repeat this.
The first team to have both pairs complete the walk out and back wins.

4

Drop and Pop Relay (teams of 4)

Each person will get a balloon. Inflate the balloons, so each is roughly the same size.
2 chairs will be set up for each team across from each other.
On the GO signal, the first member of the team carries a balloon to the chair, drops the balloon on the chair, and then sits on the balloon until it pops.
When the balloon pops, the person runs back to his or her team and tags the next person in line.
The relay continues until the last team member on each team has made it back to the line. The first team to finish wins.

5

Over Under (teams of 4)

Participants will line up in a straight line.
The first person in line will start with the ball above their head, passing it backward to the next participant.
The second person will pass grab the ball and pass to the person behind them through their legs.
Repeat until the end of the line. Then, all will turn around and continue to pass the ball in the same pattern back to the beginning of the line.
Looking to swap out some of these, check out these: https://abcdeelearning.com/field-day-activities/ and https://www.waterford.org/education/field-day-activities/.
Remember, you have the Wellness Champion website and Wellness Champion planner to help you as you plan it all out!