Our Leadership Team
All over the world, workers of The Lutheran Church - Missouri Synod bring the gospel to a world sorely in need. And for fifty years, the Concordia Plans have provided benefits to protect those workers, leveraging our collective numbers to bring quality benefits to all.
John Lee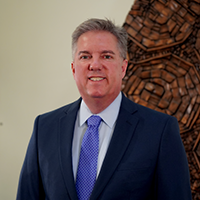 John Lee joined Concordia Plans as Vice President and Chief Operating Officer in August 2021. John oversees product vision, strategy, development design and delivery; product line operational and financial performance; and internal and external service delivery.
John has a background in member experience, marketing technology, product development, finance and marketing-operations (within the B2B and B2C, consumer product, health insurance and financial industries). He comes to Concordia Plans after 11 years at Centene Corporation in St. Louis where he helped establish their Affordable Care Act Health Insurance Marketplace, growing it from zero to 2.2 million members.
John holds a master's degree from Washington University and a bachelor's degree in finance/information systems from State University of New York, Buffalo.
John and his wife have 2 teenagers and a Goldendoodle. He is a lifelong Buffalo Bills and Buffalo Sabres fan.