Everything you need to choose your 2022 benefits.
It's time to make your benefit choices for 2022. Protect yourself – and your family – by signing up for your benefits, along with additional insurance and options to save for retirement, Nov. 1-19.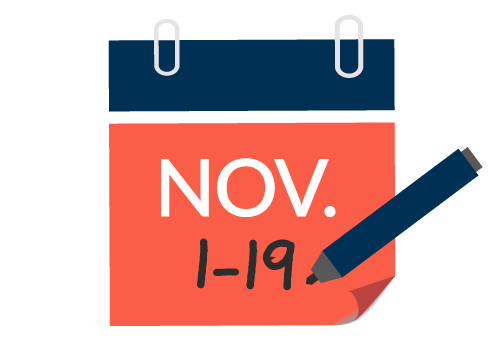 Mark your calendars Nov. 1-19 so you remember to go to your member portal to:
Choose your benefits.
Designate or update your dependents and beneficiaries.
If you need supplemental life insurance, take advantage of the guaranteed-issue opportunity.
Contribute more or enroll in your CRSP 403(b), if eligible.
Questions? Call the Concordia Plans Team at 888-927-7526.
Not registered for the portal?
If you are not registered for the portal:
Go to ConcordiaPlans.org.

Click on "My Account."

Follow the steps to set up your account.
If you need help either registering or navigating the portal, click here or call 888-927-7526.
No matter which option(s) your employer offers you, you're going to get coverage that gives you protection and peace of mind - you and your family will have a strong, dependable safety net.
This year you have a limited-time opportunity to purchase guaranteed-issue supplemental life insurance. This means you can purchase additional insurance without being required to provide evidence of insurability. This is a great way to increase your family's insurance coverage without the additional steps of providing medical information. You may increase your Supplemental Life insurance coverage by $50,000, not to exceed the full coverage amount of $200,000, without providing evidence of insurability.

This guaranteed issue opportunity will only be available this year, so be sure to carefully consider your family's needs, and choose supplemental life insurance during Open Enrollment. How much do you need? Visit our new calculator to find out: LifeBenefits.com/ConcordiaPlans.
---
Have you saved enough for your retirement? Take this opportunity to sign up to save in the CRSP 403(b) if you're eligible. Your future self will thank you!
Not saving in the CRSP? There's no time like the present to start! Visit ConcordiaPlans.org/CRSP for some helpful information.
Already saving? Now would be an excellent time to increase the amount you save.
Did you leave retirement savings at a former employer? You are able to roll funds into the CRSP 403(b).
Concordia Health Plan benefits materials.

Remember to choose your 2022 benefits Nov. 1-19.