Go for Gold: Final push to the finish line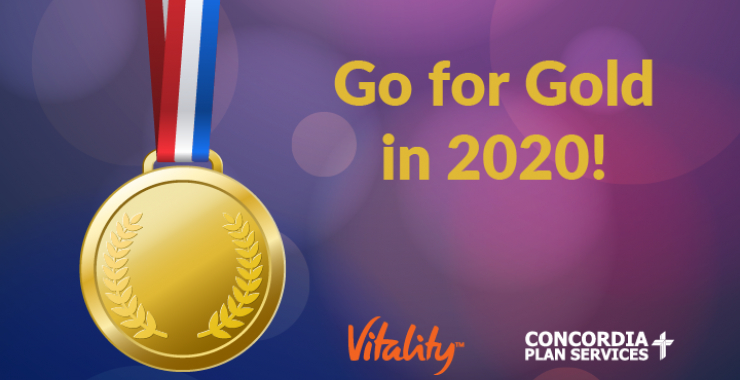 In January, we talked about the tools and resources to help get as many LCMS workers to Vitality Gold. Maybe you started using your 2020 Wellness Champion Planner to outline your own programs and events to help engage your co-workers in health and wellness. As we near the end of 2020, I'd imagine some of those initiatives didn't go as originally planned, and that's OK.
As a Wellness Champion, even the smallest interactions or initiatives you plan make a big impact in your ministry's culture. That's why we've decided to equip your co-workers with the tools and resources to give a final push towards reaching their goals and Vitality Gold status. Here's why Vitality is a great resource to help your co-workers.
Why Vitality?
Vitality is an incentive-based health and wellness program that provides individualized guidance to lower health risks for those who engage in the program. Incentives are great for those who need some external motivation, while the program's ability to customize for the individual makes it more impactful than general wellness guidelines. Plus, the individualization means it works to move from external motivation slowly towards internal motivation.
Why Gold?
Gold status is where activities or habits start to become more formed and long-lasting, meaning the health benefits are much bigger! We'll again provide you with a detailed checklist on how to get to Gold. You and your co-workers may notice that it takes a little longer than it took to get to Silver but rest assured that this extra time is cementing habits, so they've a longer impact on you and your health.
What's in it for me? My ministry?
What this means for you: getting your co-workers engaged in Vitality not only can improve their initial health and wellness but the program helps to create the momentum for you. When momentum gets going, it makes your job easier. Plus, the program will help each person focus on what is beneficial to them.
Vitality engagement:
Keeps workers on the job (fewer sick days).

75% of workers at bronze/Silver had health-related absence vs. 3.45% of workers at Gold/Platinum status.

Is associated with lower turnover.

11% turnover-rate for those at Bronze or Silver vs. 6% for those at Gold or Platinum.

Is associated with fewer workman's comp claims.
Can lead to decreased healthcare costs for the employer.
Encourages workers more likely to report satisfaction with their job; satisfaction that could equal retention.
Let's work together by encouraging co-workers to continue to "Go for Gold." It may seem small but by sending the Wellness Champion Forward email your co-workers, they'll have the information and resources to help them engage in health and wellness activities. Continued support and additional details around "Go for Gold" and updated Vitality checklists will be included in the upcoming Wellness Champion emails. If you have questions or need additional resources, I'm always here to help – Megan.sherman@concordiaplans.org