Let's keep going for gold!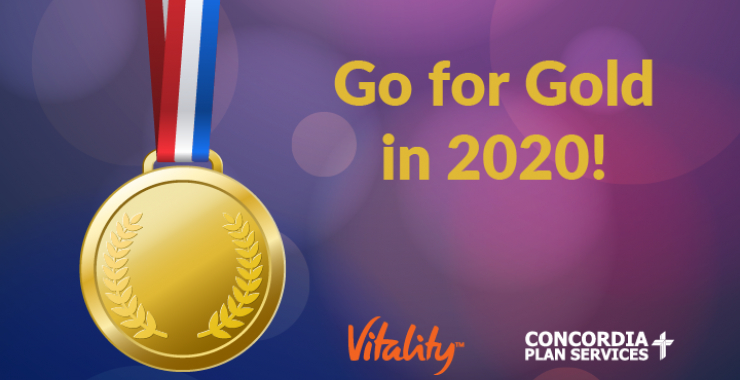 Earlier this year we launched a 90-day guide to help you get to Vitality Gold status but let's face it, a lot has changed since then. One thing that hasn't changed is that your health and wellness is still important.
As you reflect on how your 2020 goals have changed over the past few months, take a moment to check in on your Vitality wellness goals. It's not too late to get to Gold status, and we've updated our 90-day guide to help you get there. New activities include:
A financial webinar series.
Updated goals for unusual times.
At-home workout options.
More options such as screening vouchers to complete your Vitality Check.
Upcoming Synod-wide Challenges.
Your homework: Review this updated checklist to help you set new goals, earn more rewards and keep going for Vitality Gold. Keep an eye out for next month's email and updated checklist.
90 Days to Gold! | August 2020 – Month 1
Day

Task

Time

Points

Done

1

Get Registered

If you have a spouse enrolled in the Concordia Health Plan, they have access to register their own account within Vitality. Family members can support you through your journey, but they also contribute to your total points and status.

5 minutes

—

1

Vitality Health Review (https://www.powerofvitality.com/vitality/vhr)

10 minutes

500

1

Order fitness device (if needed)

$100 fitness device subsidy available
Enroll in Active Rewards for a weekly exercise goal and the chance to earn even more points when you reach it!

10 minutes

—

1 – 21

Synod-wide Workout Challenge: Join and complete the challenge as an individual or invite up to 10 members to be on your team.

5 minutes

35

24 – 7

Synod-wide Workout Challenge: Complete verified workouts:

4 standard workouts per week = 10 pts each
1 advanced workout per week = 15 pts each

Varies

55

2+

Vitality Mental Health Review – all three parts

(https://www.powerofvitality.com/vitality/get_healthy/mental_wellbeing_review)

10 minutes

225

3

Vitality Physical Activity Review

(https://www.powerofvitality.com/vitality/physical_activity_review)

10 minutes

250

3

Schedule Vitality Check : Biometric Screening (https://www.powerofvitality.com/vitality/learning_center/gtv/vitality_check)

Options to choose from….

Primary Care Physician's Office
Quest Lab
Wellness Corporate Solutions: Search available screening locations such as Lab Corp and CVS Minute Clinic that are near you. Download a voucher to take to your screening which includes all the information you need to know to successfully complete your Vitality Check.

5 minutes

—

4+

Set goals and check in weekly

(https://www.powerofvitality.com/vitality/goals#goals)

Include 1 Unusual Times (30 points per week) + 1 standard goal (30 points per week)

5 minutes

240

7

Connect fitness device to account once it arrives

10 minutes

—

7+

Complete weekly Bible study

Week 1-4 (35 points each week)

Varies

140

17-28

Register for Naturally Slim

Registration: 8/17 – 8/28
Class starts 9/14

5 minutes

—

Any

Complete 10 at-home or gym workouts

(https://www.powerofvitality.com/vitality/yourAccount/forms_and_waivers#healthClubWorkout)

Type "home" in the name of gym section for at home workouts.

30 minutes

100

Any

Vitality Healthy FYI: attend live or recorded

30 minutes

50

Any

Financial Webinar presented by a Concordia Plan Services Financial Educator: attend live or recorded

(https://www.concordiaplans.org/tutorials-and-help-center/financial-wellness-webinars)

30 – 60 minutes

50

Any

Play Vitality Squares

2 minutes

30

Total Points | Month 1

1,675
Need help within Vitality? Contact the Vitality customer support team at 877-224-7117 or wellness@powerofvitality.com