Lift up and support those experiencing mental health struggles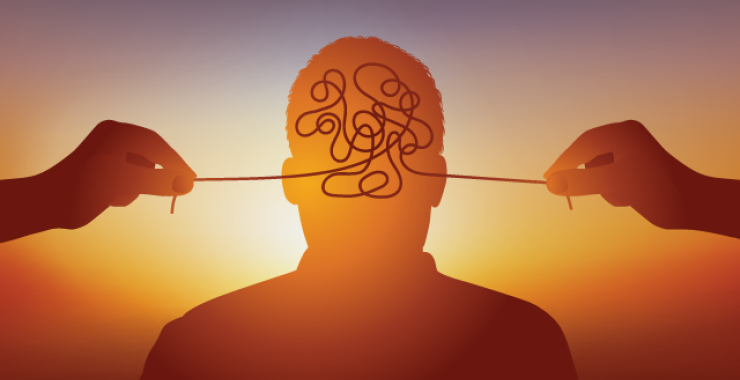 You try on shoes to check their fit.
An odd opening, I know. What do shoes have to do with mental health? How do you find a pair that fits right? You try them on your feet. The same goes for mental health and finding the solution that works or "fits" you best.
We're in week three of our mental health series, and we have two more people to meet.
Meet Stephanie Jones, wife of Pastor Andy Jones who you heard from last week, and Chelsea Borgmann from the Concordia Plan Services Marketing Department. A pastor's wife and a corporate Synod worker (respectively), might not seem like the most prominent roles in the LCMS, but they indeed are integral. What's more, they each have compelling perspectives on mental health and novel advice to share with you.
From where Stephanie sits
Stephanie Jones was very open about the emotional perspective of being a pastor's wife. A pastor and his wife are the face of the church – everyone knows them and sees them. From their seats, however, they often experience the opposite. Jones summarized it well, "It's weird to be so visible and so invisible at the same time."
Whether that's true or just her perspective, Jones shared that she worries about any issues she has may reflect on her husband. "I don't want how I am to change how people feel about him." She feels that people look at them as a unit, and that the health or actions of one is the sum of them both, adding, "People tend to love us as a unit. They lump us together for the positive, so do they do it for the negative, too?" She spoke of her hesitation to be open and honest because of this and feels a real hesitation to speak freely without consequences. "But if I don't talk about it, holding in the tension affects my mental health."
The candor of Chelsea
Chelsea Borgmann openly shared her experiences with emotional health. From growing up with anxiety and the emotional struggles in adulthood with two instances of Neonatal Intensive Care Unit (NICU) life. She said these times shaped her outlook on mental health and how she now approaches life's situations.
Borgmann said the medical staff helping her through the second NICU experience saw her as strong and coping well. However, she was overwhelmed to the point of being numb. It's important to note how common this can be.
Some defining moments she remembers were when she started going to counseling but was encouraged to not talk about it. She said, "I don't want anyone to be shamed for getting help." She wished people could feel the relief she felt when she sought help rather than the burden of keeping it to herself.
Sometimes from the outside, everyone appears that they have it all together and are coping, but they really are struggling. They may not know how to pull themselves out from under the burden of their emotions or they may not even be aware they're in so deep. This is where it's important to be vulnerable with others and invite them to be vulnerable with you.
As Paul wrote in 1 Corinthians 12:25-26 (ESV):
"… that there may be no division in the body, but that the members may have the same care for one another. If one member suffers, all suffer together; if one member is honored, all rejoice together."
(COVID) Have you met Habakkuk?
We've all been feeling the effects of COVID, and as you've read this month, it's affecting not only the personal lives, but the vocational lives of our church workers, often adding to their already very full emotional plates.
For Jones, she echoed Pastor Jones' comment that this time without physical touch is affecting people more than they may realize. "The people you're comfortable with you can't touch or hug. It's not weird with strangers, but with your church, it's difficult."
Borgmann's experience during COVID has been what many of us are facing. She is in that sandwich generation where she's raising kids and helping take care of parents. When she was 16, her dad became a paraplegic, leaving her feeling helpless. During this time of distancing, Borgmann feels even more so because she can't be there with him and her family. On top of that she is tasked with juggling working from home with three young children.
Jones pointed to her favorite book of the Bible while talking about the uncomfortable times we're in. "In the book of Habakkuk, you can find him crying out to God saying 'What are you doing? This doesn't feel good. Make it stop.'" She appreciates that the Bible contains times when others struggled and felt confused like we are. Just like today, it's sometimes comforting knowing that others feel/ felt the way you do, and God always provides in His divine way.
Coping:
Jones and Borgmann have talked about their struggles and maybe you can relate to them. You may be asking, "How do they cope?"
Jones mentioned that peer groups or Bible study groups help her. In preparation for her role as a pastor's wife, she shared that a women's group helped her prepare on how to deal with some of the unique struggles that come from serving in this role.
Beyond support from peers through groups, Jones also found huge benefits from counseling at times in her life. While she aims to get back into it, she mentioned another struggle of her role, "Now as a pastor's wife it gets harder when it's 'us' to talk about counseling – more is on the line." She leans on her faith, her women's groups and her husband now, but looks to the day when she can meet with a counselor in her new town to add to her toolkit for mental health care.
Between the time as a young child and her father's accident, Borgmann seemed to have "grown out of [her] anxiety." Just because you have anxiety and you have a time where you need more support, it isn't permanent. By talking to trusted individuals, taking medication and receiving counseling, Borgmann has found a well-balanced approach to maintaining mental well-being. "Medication helps you do the work to understand your mental health and how to overcome it."
Borgmann also remains flexible with her mental health approach during COVID. She has found added solace in walking more. The time away helps her to organize her thoughts while also being active – giving her a positive mental health outlet in these stressful times.
What can be better to make us better
Both Jones and Borgmann repeated many of the suggestions you've heard this month – we need a community where Lutherans feel safe to connect and talk honestly, as well as the need for better understanding of what's available for mental health.
Emotions are emotions and we're given them for a reason. Yours are yours and they are valid, no matter what someone else's life is like. It's OK to say you're not OK. Even if you're blessed, you can indeed still be stressed. Emotions – positive and negative ones – can co-exist.
Concordia Plan Services is dedicated to working with other Synod entities to make church workers aware of what's available to care for their emotional health. Because no one way is best for everyone, there is and always will be a variety of ways to receive emotional health support. Remember, we're all in this together, we're all in this uncertain time together and we're all able to support each other. We, just like those you serve, want you to Be Well in all areas of your health such as your emotional health, so you may Serve Well.
Advice: Try on ALL the shoes.
Jones pointed out, "God created man and said, 'this is good.' And that was with our emotions and all. This whole us is good." We don't have to be ashamed of negative emotions, nor ignore, stuff or bury them. You have to acknowledge the feeling; and get comfortable being uncomfortable.
"Face it and feel it," Chelsea said.
God is our ultimate comforter for when we face and truly feel those big or scary emotions. He gave them to us for a reason and they can draw us nearer to Him. He will provide for us to cope with them.
Find what it takes to build skills in handling your emotions in a healthy way. As Borgmann said, "Try on all the shoes… keep searching for what works for you." Just like a pair of shoes that may initially feel comfortable and over time become worn and provide less support, so can mental health tactics. Borgmann advises, "What worked before maybe doesn't work now. New seasons of life call for new ways of support and that's OK. The most important part is that you continue to find new sources of support."
Pastors' wives and other laypersons are instrumental to the Church's work. They also face challenges in their roles. Show appreciation for those who maybe are often overlooked in your spiritual life. Show gratitude for the gifts they give and contributions they make to God's mission – whether it be by prayer, an email, a text message or a handwritten note of appreciation (Option 1 & Option 2).