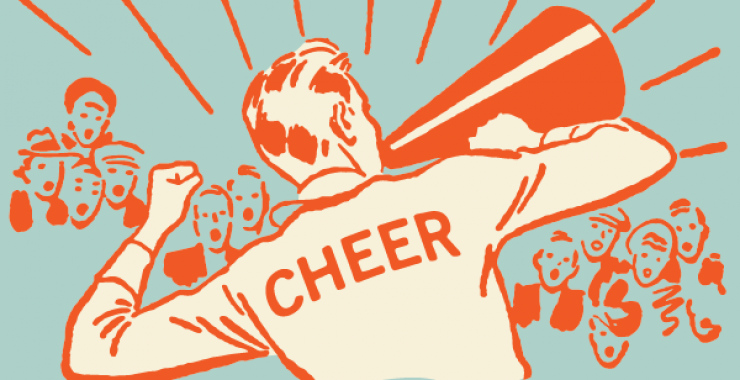 You ooze positivity around your workers. You praise every success they have on their wellness journey. Your energy is high and infectious … or is it? Encouragement is important for anyone on a wellness journey. However, did you know all the rah-rah-rah's can end up sending the wrong message?
Motivational Interviewing experts call it The Cheerleader Trap – the well-intentions of support persons that backfire, causing those they support to feel like they're only successful if they make the health habit change. This also could cause them to avoid sharing when they're struggling (which is when someone needs the most support, right?)
We've talked before about the importance of listening for "change talk," the phrase someone says when they are motivated and ready to take the steps needed for better health. The words from a coach or Wellness Champion to encourage change talk are affirming. The cheerleader words often lead to "sustain talk" or phrases that keep someone stuck in the current health habits. Affirmations are key because they encourage an "I-can-do-this" mentality and internal motivation, which is key for long-term sustainability.
Not sure if you fall into the cheerleader trap? Here are some common cheerleader phrases with affirming counter phrases. Practice these when talking to your workers about their health habit changes to encourage an I-can-do-this mentality and long term motivation.
5 Cheerleader Phrases (and What to Say Instead)
| | |
| --- | --- |
| Avoid This (Cheerleader Phrases) | ...By Saying This Instead (affirming phrases) |
| You're doing so well! | You care about/prioritize your health goals. |
| Look at you! I bet that blood pressure is dropping so quickly! | You've noticed that when you (exercise, eat more mindfully) you feel better, and it's making you feel more confident in this lifestyle change. |
| Keep up the good work! | You feel good about the changes you've made it sounds. |
| You did it! You're awesome! | You were able to identify some changes that work in your life. |
| I'm so proud of you! | Following through with your commitment to (exercise/ eating habits/ stress management) is something to be proud of. |
Taken from Motivational Interviewing in Nutrition and Fitness by Dawn Clifford and Laura Curtis. New York, NY: Gilford Press. 2016:156-157.