Omada Helped Save My Life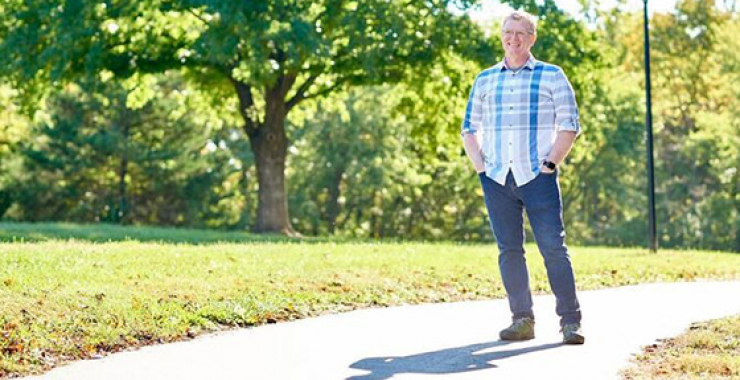 Many times we give little thought to what stress, unhealthy eating habits and lack of exercise are doing to our heart health – that is until a medical event occurs. As a member of the CHP, you have tools that can help get you focused and motivated to change your lifestyle. Brent is just one of the thousands of CHP members who has found heart health solutions through wellness tools. Join the journey to wellness!
Find Your Heart Health Solution
By Brent Ludwig, a member of the Concordia Health Plan
There's nothing like those first warmer days that pop up as the end of winter nears. You feel a sense of renewal at the opportunity to get outside without being smacked in the face by winter's frigid temperatures.
That's how it was that day in the spring of 2017. I felt especially good because I had recently started a weight-loss program called Omada that was really paying off! I was down 10 pounds just shy of a month of participating in the program, now weighing in at 254. I'm sure most of it was mental, but I felt lighter and healthier.
So I offered up to my family the idea of taking a hike. "Hey! Let's drive out to Bluff Road and hike the new trail that just opened."
The entrance to the trail was flat for about a half mile. Not an issue. I could've climbed this trail even before I lost 10 pounds. Then we start the ascent.
Wait. Something doesn't feel right. My chest hurts. I'm feeling pains in my chest. I stop.
"My chest feels tight," I say to my wife. She suggests that we do the trail another day.
I take a moment thinking it will go away. I start walking. Nope, there it is again. Not feeling good about this.
"Yeah, I think we should do this another day, and I probably should see a cardiologist."
Even though the pain came and went, and I didn't feel anything like it again, I still scheduled an appointment with the cardiologist. I was now even more determined to follow the Omada program so I could lose weight and improve my health.
By the time my appointment rolled around, I weighed 212. I was feeling really good, and I hadn't had any chest tightness or shortness of breath since the hike. I was hoping the electrocardiogram (ECG) raised no concerns. However, right away, the doctor sees some abnormalities and schedules me to have a stress test the following week.
As you can probably guess, I fail the stress test. There is blockage. The doctor says he is scheduling a Cardiac Cath/Angioplasty for the end of the week.
"Can we do it next week? I don't want to ruin Mother's Day for my wife."
"You're going to do worse than mess up Mother's Day if you don't get the procedure done this week."
The Friday before Mother's Day, I go in for the procedure. It goes smoothly and the stent is placed. However, the news following is shocking. The doctor tells me that I had 99 percent blockage in the left anterior descending artery. Blockage in this artery is often referred to as the widow-maker due to a high death risk.
The stress of taking care of ailing parents for years, along with poor eating habits and a lack of exercise, had finally caught up with me.
"Your recent lifestyle changes and decision to see a cardiologist saved your life. I don't think you would have made it past Mother's Day."
Those words echo through my mind to this day. If it weren't for the direction and encouragement I received by participating in the Omada program and so many prayer warriors, I wouldn't be here today to tell my story.
Thank you, Concordia Plan Services, for giving me access to a health program that helped save my life, giving me many more Mother's Days with my wife and our two boys.