More Than Wintertime Blues?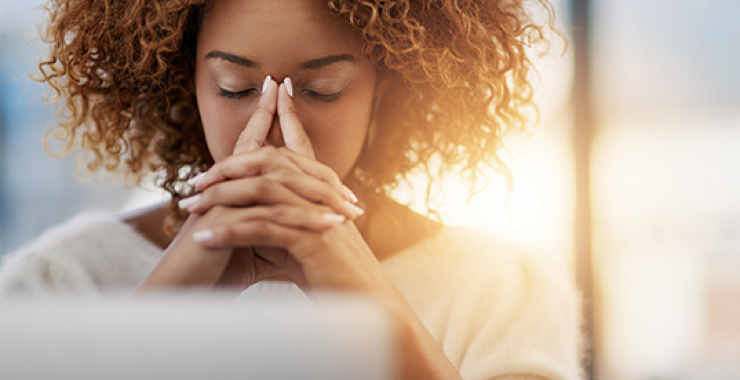 After all the holiday gatherings are over and the trimmings start to get packed away, I tend to fall into a wintertime lull. With the dreary days and the seemingly ever-lasting nights (why must it be dark on the way to and from work?), I find it harder to be excited about participating in regular social activities. I end up wanting to do nothing more than curl up at home and count the days until spring arrives.
Sound familiar? Many people get the wintertime blues. Oftentimes the phrase "Seasonal Affective Disorder" gets tossed around in conversation as an explanation for our mood. While it seems easy to label ourselves or someone we love with this, it's much more than just a phrase. It's an actual mental health diagnosis.
Seasonal Affective Disorder is a type of depression that affects nearly 10 million Americans. How can you know if you or someone you love suffers from Seasonal Affective Disorder or other mental health concerns? Here are some steps to check your emotional health this winter:
Know the Warning Signs: If you or a loved one experiences any of the following during the same season for at least two years, it could truly be Seasonal Affective Disorder 1,2,3:

Low energy
Feeling hopeless, worthless or irritable
Gloomy, sad outlook
Overeating
Weight gain
Craving carbohydrate-rich foods
Social withdrawal, loss of interest in activities you once enjoyed
Changes in sleep habits (sleeping more or difficulty sleeping)
If this is you or someone you love:
Talk to your doctor. Your doctor can assess the severity of your blues. If it's something more serious, he/she can steer you in a healthier direction. In some cases a combination of medication and therapy may be needed. Don't have a doctor? Grand Rounds is a great resource that can connect Concordia Health Plan members to medical or mental health doctors at no extra cost to you. You are guaranteed to be matched with a doctor that is in your medical network and meets any preferences you may have. Also, these are providers who perform in the top 10 percent of their scope of practice. Doctors in the top 10 percent are less likely to misdiagnose and incorrectly prescribe medications, which ultimately means better health outcomes for you.
Follow the recommendations. Mental health treatment is often stigmatized. It's not always something you can "work through" on your own. Mental disorders are true medical conditions that have proven therapies to improve them. Rarely do people think anything of getting glasses or contacts if they struggle to see clearly or use insulin for blood sugar control. Let's change the narrative for mental health and follow the direction for counseling and/or medication or other therapies when our doctors encourage them.
Concordia Plan Services makes free mental and emotional health support available to all members of the Concordia Health Plan through the Employee Assistance Program. To get connected to an EAP counselor:
Go to MyCigna.com
Create an account
Search for a counselor in your area
You can also get connected to a counselor 24/7 at 866-726-5267. (NOTE: All CHP members receive their EAP benefits through Cigna Behavioral Health.)
If this is you, it's important to know you are never alone. At CPS, we're walking with you – through every emotional season of life. And we want to help!
Sources: