A Healthy Family Starts at the Dinner Table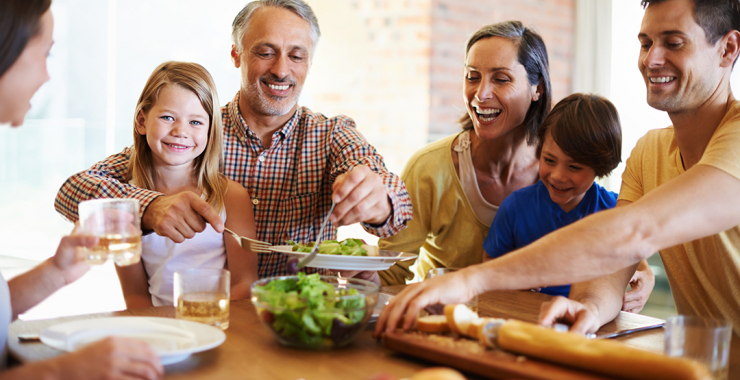 Food is one of the most social components of many cultures, and ours is no exception. But how often does the calendar win, turning mealtime into a rushed event that lacks quality social time with family and loved ones? If you're like most, the answer is likely "too often." Let this back-to-school season be one to refocus your attention on your family starting with the dinner table.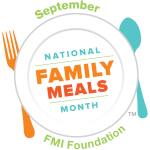 September is National Family Meals Month, an initiative that focuses on helping families come together and be healthy through dedication to dining together. Regular family meals are linked to many positives such as:
Healthier families physically, emotionally and spiritually.
Helping kids have better self-esteem, be less likely to engage in risky behavior, have long-term healthier eating habits and perform better in school.
Nourishing not only the body but also the spirit.
Think of the conversations you can have while sharing a meal; perhaps you can talk to your family about serving others over the story of Mary and Martha or maybe discuss faith by way of Peter's walk on the water to meet Jesus. Mealtime presents the perfect stage to talk about many aspects of what God teaches us while fueling the bodies He gave us, creating a nourishing moment for both our bodies and our spirits.
As a Wellness Champion:
Now this all may seem awesome to know, but you're probably thinking "I don't have time to promote this!" The best part of this initiative are the resources that the Food Marketing Institute has pulled together for our Wellness Champions to use to promote this beneficial movement. The FMI Foundation has developed a toolkit so promotion is easy (and fun!); a toolkit packed full of social media posts, quick stats, logos and engagement ideas and more! All for FREE!!!
Be sure to check out this month's challenge, made extra easy during this busy season. Just promote it to your workers. (Both CHP members and non-CHP members can participate.)
Also, feel free to share these images with your workers in digital or print form. Click on the thumbnail to enlarge.